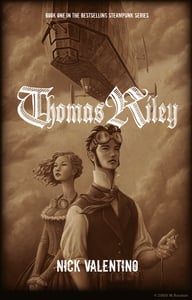 $

16.00
Free shipping for your signed copy of the re-edited reissue of the first book in the series when you buy it here. Books will be shipped June 25th
All books will come with a real signature from the aurthor, Nick Valentino. If you'd like your name or a message included, please indicate what you want in the comment section of the order.
For more than twenty years West Canvia and Lemuria have battled one another in a constant war.
Thomas Riley
The adventure begins! From the safety of his laboratory, weapons designer Thomas Riley has cleverly and proudly empowered the West Canvian forces with his brilliant designs. But when a risky alchemy experiment goes horribly wrong, Thomas and his wily assistant, Cynthia Basset, are thrust onto the front lines of battle.
Forced into shaky alliances with murderous sky pirates in a deadly race to kidnap the only man who can undo the damage--their arch nemesis, the mad genius behind Lemuria's cunning armaments--Thomas' own genius and bravery is put to the ultimate test.